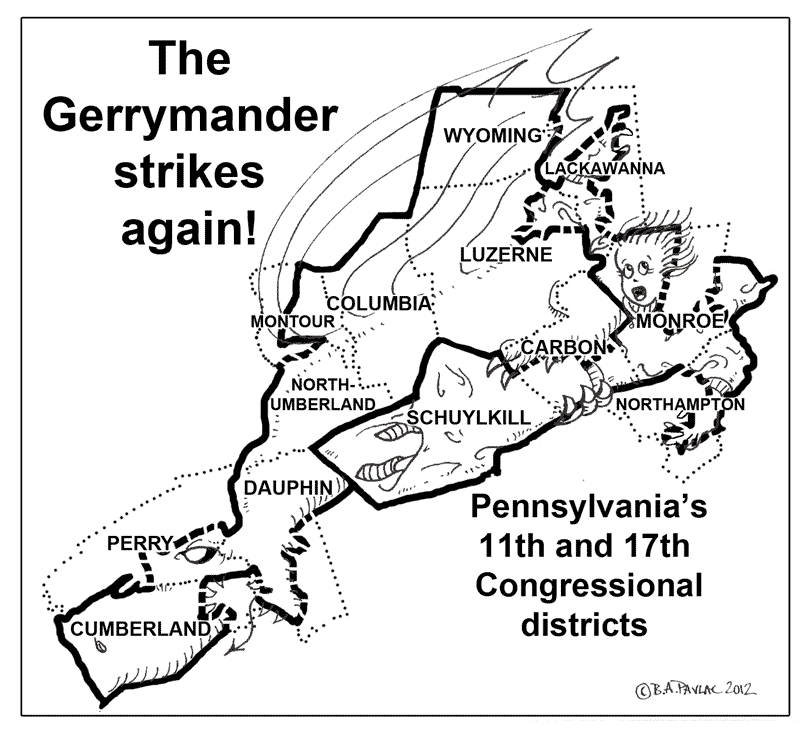 Gerrymandering in Northeast Pennsylvania, 2012
Do you know for whom you can vote in the coming April 24th primary and November 6th general elections?
The Republican dominated statehouse recently redrew federal districts for Northeast Pennsylvania. Since 1812, the term gerrymandering has been used to describe the redrawing of voting districts into odd shapes for partisan advantage. Unlike state-level districts which were successfully challenged in court for being unrepresentative, the federal districts stand as drawn. As a result, the Republican statehouse majority has diluted the votes of NEPA for Congress, spreading them around several districts.
Do you know the new borders of your congressional district? If you are currently represented by Congressmen Barletta, Holden, or Marino, perhaps you won't be able to vote for them anymore. The new 11th and 17th districts look like the legendary Gerrymander carrying off the captive lady of representative democracy.
Check now and make your vote count this year. Then demand from our Solons in Harrisburg a non-partisan process for reapportioning.